The "Ultimate" version of the NCS Post-judgment Interest Calculator was developed in response to many of our users. The two biggest concerns with the "Standard" version were not enough payment fields and the inability to store records for future modification. Users wanted a method of storing their work online so that records could be easily updated on the receipt of future payments. The "Ultimate" version meets both of these requirements. An unlimited number of records may be securely stored online and each record now contains 300 payment fields. Like the Standard version it automatically determines the correct statutory post-judgment interest rate based on the state, province or territory, award date and award amount. It also allows the statutory interest rate to be overriden if needed.

All records are automatically backed up on a remote server each night for an added measure of safety and the program will produce a detailed display of calculations formatted for your printer. Records can be searched individually by case number or a list of all records may be displayed. A link to each record can even be created that may be placed in the associated record of your Practice Management program, provided your program permits such links. As an added bonus of subscribing to the "Ultimate" version you will have access to a "Standard" version calculator as well! It's two calculators for the price of one.

The biggest advantage of the Ultimate version is the amount of time saved by making it unnecessary to re-enter payment data every time you want to calculate post-judgment interest for the same case. Quite naturally the increased bandwidth and storage space for an unlimited number of records taxes our server resources but we are still able to keep the cost down to as little as $99 per year! (Even less if you subscribe for multiple years.) Choose the system that works best for you.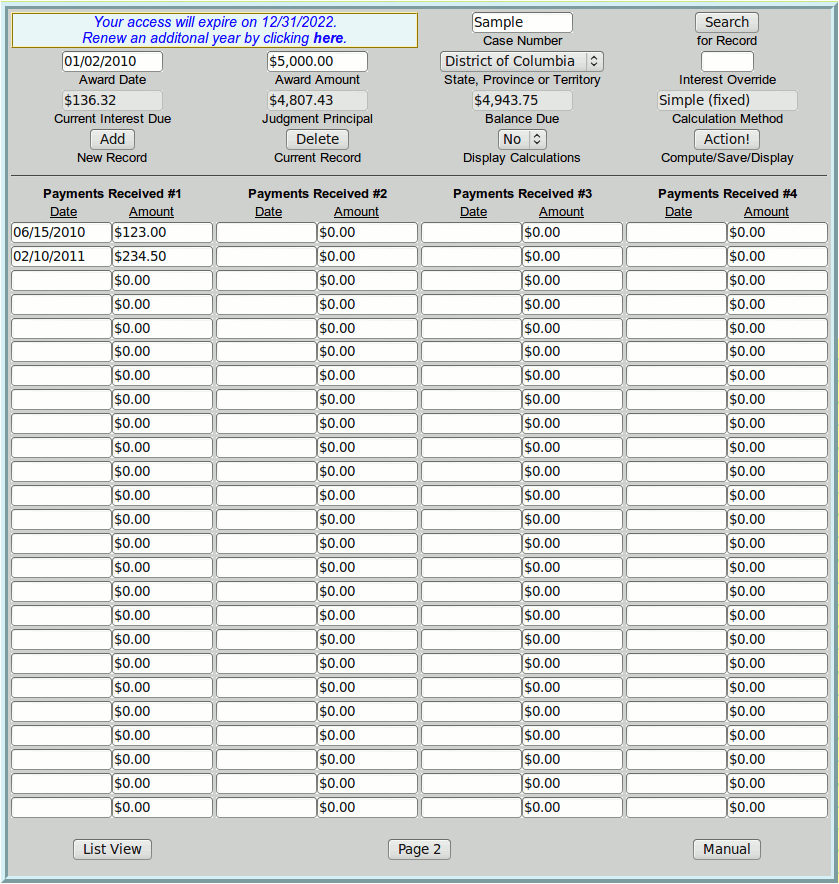 © Copyright 2017. All rights reserved. National Cyber Services